Emergency
Tow Truck

Near Me: Casper's Body Shop & Wrecker Service
Emergency Tow Truck Near Me: Casper's Body Shop & Wrecker Service
Casper's Body Shop & Wrecker Service offers 24/7 emergency towing services in Greeneville, White Pine, and the surrounding areas. We've been East Tennessee's trusted emergency towing company for over 25 years!
Our business is founded on three principles:
Contact us to learn more about our towing services. In need of immediate assistance? Call 423-639-0893 to reach our 24/7 in-house dispatch team.
We offer a wide range of towing services in Greeneville and the surrounding areas
Light Duty Towing
Casper's light duty towing fleet can tow sedans, SUVs, and small pick-up trucks. Our light duty wreckers are the perfect solution for tows in low clearance areas and tight spaces like between two buildings or underground parking towing. Scared of damage to your car during a tow? Each of our tow trucks in our light duty fleet are fitted with wheel-lift technology ensuring that your vehicle's body and frame do not sustain any damage.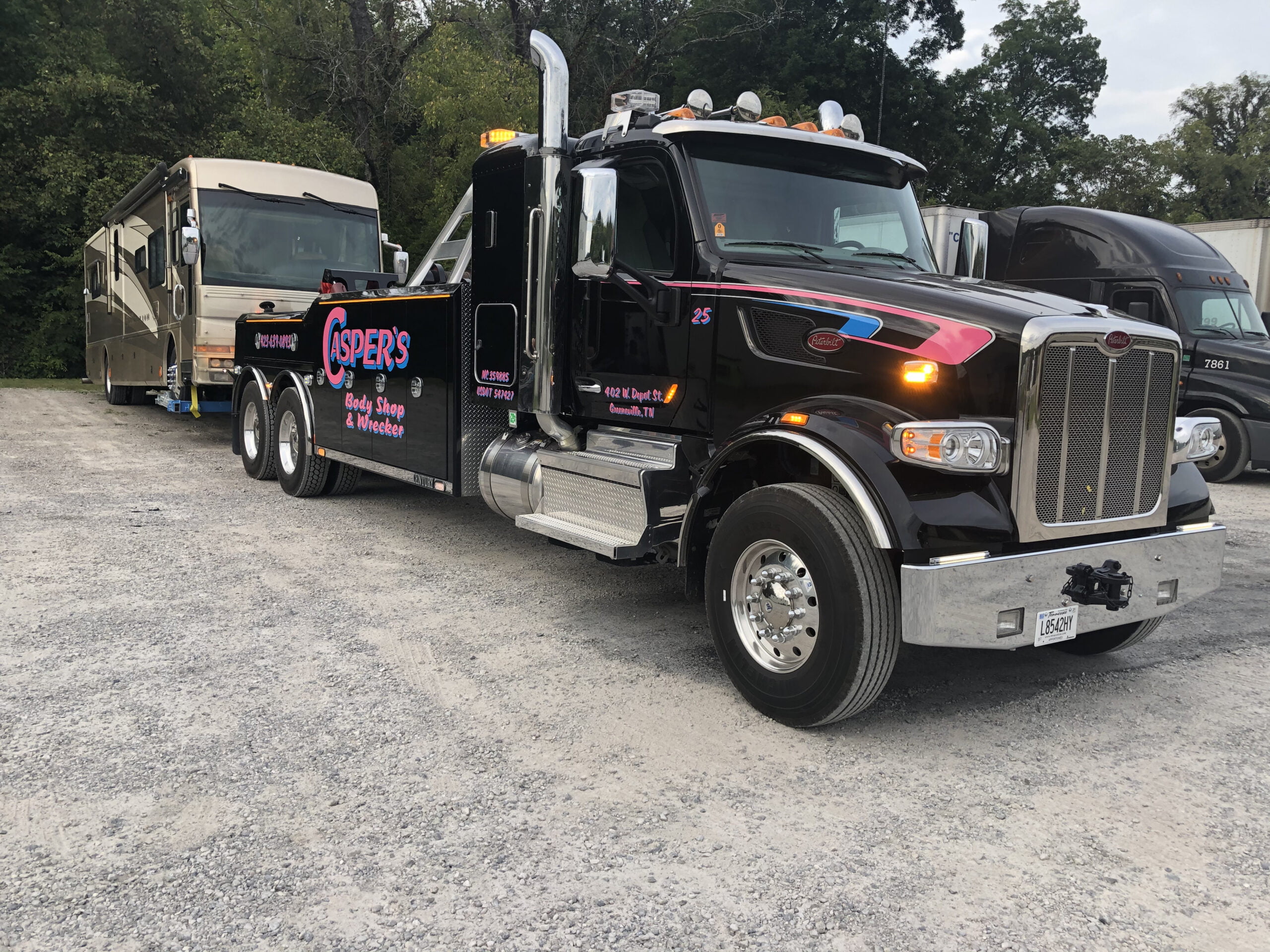 Medium Duty Towing
Our medium duty towing fleet includes medium duty wreckers and flatbed tow trucks. This is the perfect towing solution for small buses, motorhomes, and more! Need to transport a luxury vehicle with low clearance? Our flatbed tow trucks are perfect for the job!
Heavy Towing
No job is too big or too small for our Greeneville heavy towing fleet! Our heavy towing division offers a wide range of services ranging from heavy duty winch-outs and air cushion recoveries to tractor trailer uprighting.
Roadside Assistance Services
Our emergency response services also include comprehensive roadside assistance. Our roadside service crews can help you change a flat tire, jump start your car, get into your car after you lost your keys, and even deliver fuel if you've run out of gas!
In the event that your vehicle needs more comprehensive repairs, our roadside service trucks are equipped to safely tow your vehicle to your repair shop of choice.
Learn more about our 24 Hour Roadside Assistance services.